Introduction: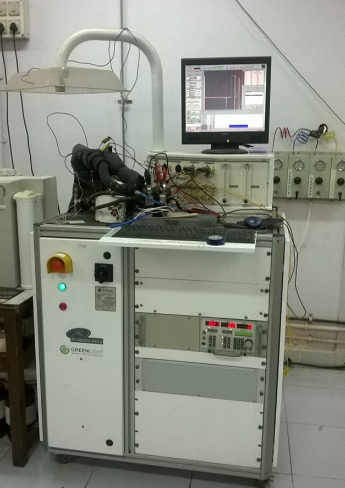 Multiple fuel cell type performance testing system with attached Millipore water system for proper humidification. Precise flow controls and safety features for working with hydrogen and oxygen gas.
GreenLight Innovation Canada, Hydrogenics, FCATS G50 50-500W
•
Multiple fuel cell types can be tested
•
Automated safety features
•
HyWare
TM
software for automatic control
•
Humidification provided with a connected Millipore water system
•
Flexibility to connect with other electronic loads for higher power systems
•
Automatic temperature and flow controls for gases
Whether facility is open to external users? :
No
Fuel Cell Research Facility, N1 Bay, IIT Bombay, Powai, Mumbai-400076.
Convener/Incharge
Name : Prof. Prakash Chandra Ghosh, Dept, of Energy Science and Engineering.
Email - pcghosh@iitb.ac.in